Designer Frames
As an independent practice we are unrestricted in the range of fashion frames we stock and we deal with most of the established suppliers. We display over 500 frames with prices to suit all pockets.
Sunglasses
We supply sunglasses by Ray-Ban, Diesel, Guess, Gucci, Crosshatch, Police, Cébé, Carolina Herrera, Converse and most can be made with your own personal prescription lenses
Children's Glasses
We believe in making spectacle wear an enjoyable experience for children. We stock a huge range of children's frames (free with an NHS voucher) and we will go to great lengths to provide style and comfort.
Spectacles for Teens
In terms of fashion eyewear we regard teenagers as adults. We therefore offer a large range of fashion frames to teenagers which fall within the NHS voucher value (effectively making them free to full-time students under 19 years).
Clinical Services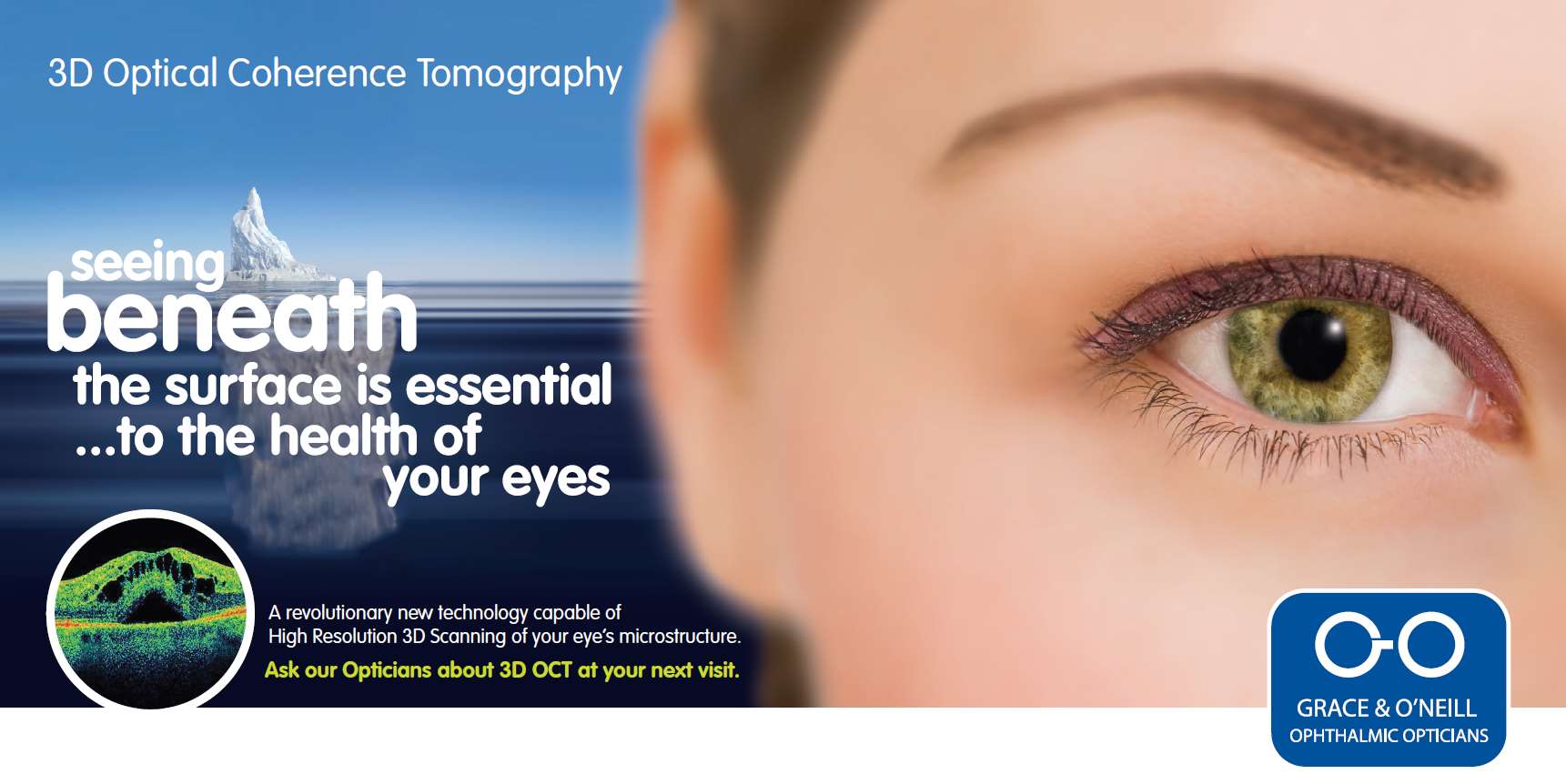 Diabetic retinopathy screening
We recommend at least yearly eye examinations for our diabetic patients. Grace and O'Neill also recommend optical coherence tomography (OCT) to our diabetic patients as this method is much more sensitive in the detection of early diabetic retinopathy when compared with more conventional methods such as digital retinal imaging.
Glaucoma screening
The early stages of glaucoma are difficult to detect and a definitive diagnosis will require a number of tests which include tonometry (measuring the pressure in the eye), visual field testing, and optic nerve head assessment. All of these tests are available at Grace and O'Neill.
Optical coherence tomography (OCT)
OCT is a new and highly advanced screening system that detects and monitors potentially sight-threatening conditions such as glaucoma, diabetic retinopathy and age-related macular degeneration (the leading cause of blindness in the UK and Ireland). OCT is like ultrasound and having an OCT scan is simple and painless.
About
Grace and O'Neill Opticians opened their first independent practice in Lurgan, Co Armagh in 1990 and is currently celebrating 25 successful years in the provision of quality eye care. Our independence has allowed us to develop the practice in line with our own ideas and values and today Grace and O'Neill, Lurgan boasts a large number of patients most of whom have remained with us throughout our 25 years in practice.

When you visit the practice your eyes will be expertly examined by one of our fully qualified optometrists, Paul Grace and Dawn Speer. Our optical assistants will guide you to high fashion and affordable eyewear which will transform your view of spectacle wear. We offer excellent value for money on all of our products and boast a collection of over 500 frames in our modern showroom.

Our existing eyecare services were extended in 2011 by the introduction of optical coherence tomography (OCT) scanning. Indeed, Grace and O'Neill were one of the first optical practices in Ireland to offer OCT scanning to patients. This revolutionary scanning device delivers high resolution images of parts of the eye not previously visible by other methods. In doing so, OCT permits early disease detection and monitoring of existing eye conditions such as age-related macular degeneration, diabetic retinopathy, glaucoma and many others.
Business hours
| | |
| --- | --- |
| Monday | 9:00 to 17:30 |
| Tuesday | 9:00 to 17:30 |
| Wednesday (Late Night) | 9:00 to 20:00 |
| Thursday | 9:00 to 17:30 |
| Friday | 9:00 to 17:30 |
| Saturday | 9:00 to 13:00 |
Address
Address: High St, Lurgan, Craigavon, Armagh BT66 8AW